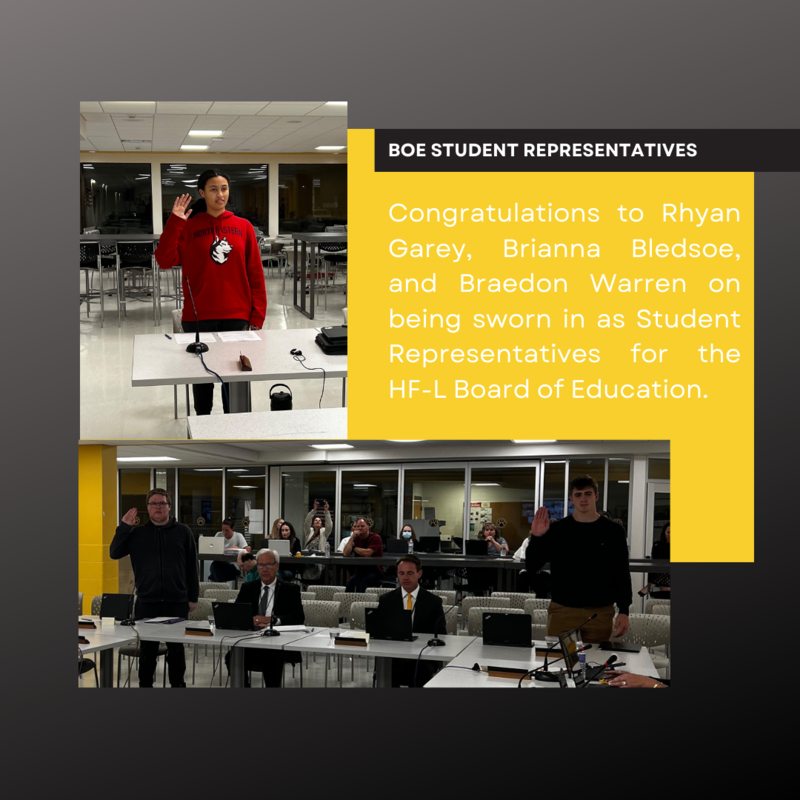 During the Board of Education meeting that took place on Tuesday, October 11, 2022, HF-L seniors, Rhyan Garey, Brianna Bledsoe, and junior, Braedon Warren were sworn in by Board of Education President, Amy West, as the Student Representatives on HF-L's Board of Education.
"The student body is very glad to be back without any COVID protocols this year," said Garey. "It has been a long time coming and I think that is a testament to our district administrators and the Board itself."
"Now that I am a student representative on the Board my friends are already sharing their thoughts with me to bring to the board table," said Bledsoe.
"Now that school has started, clubs are picking up and a lot of students are more eager to get into more extracurricular activities. They are more excited to get involved in school when compared to last year and the year before," said Warren. "Now we can really enjoy everything the school has to offer."
Garey, Bledsoe, and Warren were elected by their peers to serve in this role and will remain in this role for the remainder of the academic year.
"As a board, we look forward to seeing these students each time we meet and hearing updates from them. The Board always enjoys hearing what's going on in the schools and we thank them for volunteering for these roles," said Amy West, BOE President.
By creating opportunities for students to participate on the school board, it allows students a chance to see the democratic process firsthand. According to research, other benefits include:
Academic Achievement: Meaningfully involving students on school boards helps to engage students, which raises academic achievement.
Point of View: School boards—and districts—can benefit from the opinions, knowledge, ideas, and experiences of students.
Accuracy: Having students on school boards can help ensure that adults know what is happening in schools in real-time.
Democracy: As the saying goes, "Anything about us without us is not for us." Schools can put democracy into action with students on school boards.
Effective School Improvement: Engaging students on school boards can significantly improve the effectiveness of school improvement measures.
Youth Development: Students can become more effective learners when they are engaged on school boards, and skills learned in this environment (such as decision making) affect them throughout their lives.
School Culture: The attitudes, policies, and structures of schools may change when students are on school boards.
Embracing Diversity: Embracing a diverse set of perspectives can make student voice a significant tool in the school leadership toolbox.
Integrity: Educators and school leaders have an ethical responsibility to engage students as partners throughout education, particularly in the decision-making that affects them every single day.
HFL Board Policy 1340 allows District High School students to serve as ex officio members of the Board of Education for a one year term. The ex officio members do not have a vote, but they do have a seat at the table and can give input in matters discussed and voted on by the Board.
Congratulations to Brianna Bledsoe (12), Rhyan Garey (12), and Braedon Warren (11) on your appointment. These students took their oaths of office at the Board meeting on October 11, 2022.